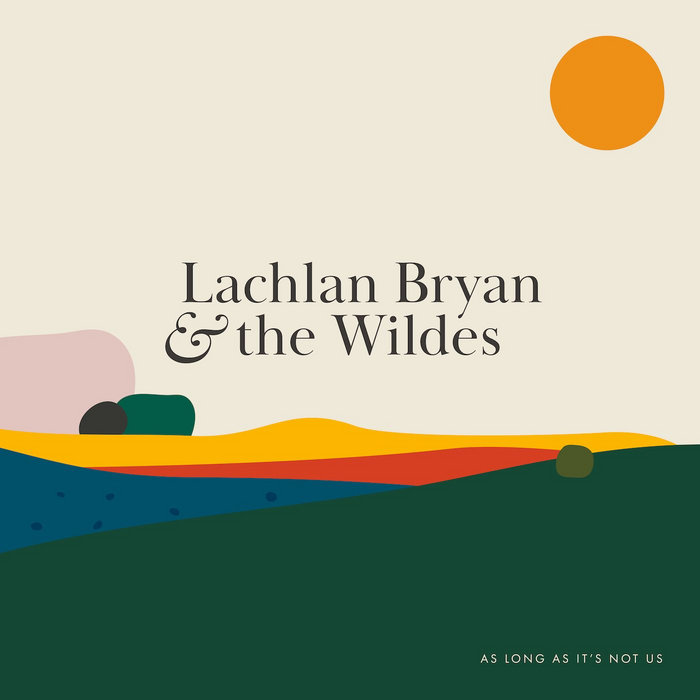 Covid has robbed us in the UK of Lachlan Bryan's annual jaunt over here for the past two years, so a new album is hugely appreciated. It too was a victim of Covid, recorded fitfully as and when possible but it was eventually released in Australia back in September and now it's available here. For those not in the know, Bryan and The Wildes reside around Melbourne down under and have released, over a decade, four albums which perfectly capture that element we call "Americana" with Bryan proving to be a superior songwriter who can easily summon up memories of Cash and Cave, The Go-Betweens and Merle Haggard.
Their last album, Some Girls Quite (Like) Country Music was Bryan's attempt to, in his own words, "To make an adult-sounding country record," which they did and to some acclaim. As Long As It's Not Us has less country content but the regular tropes of love lost, melancholy and danger are all present and correct. While Bryan is the main songwriter, his bandmates, Shaun Ryder and Damian Cafarella contribute to the writing here, offering a more democratic approach but overall, it's Bryan at the front end with the band offering stellar support in a variety of styles.
Unlike most of our reviews, we'll start with the closing song here. Take It Out On Me is a classic Lachlan Bryan And The Wildes song. It's a little bit country, a little bit LA Canyon, a whole bit enjoyable. There's a glorious jangled guitar intro then the band lope along in a grand canyon style with freewheeling pedal steel while Bryan's finely grained voice has just the right degree of lassitude and remorse. It's a grand song and if the remainder of the album was like this then that would suit us just fine. However, much of what precedes Take It Out On Me is much more adventurous with the band moving into new territories, song by song.
The opener, OK To Love has an ache at the heart of it and is delivered with a power pop bash, reminiscent of Big Star at their best, while As Long As It's Not Us has a hypnotic groove not a million miles removed from Wilco while its guitar and organ strut reminds one of the insouciant hipness of Chuck Prophet & The Mission Express. OK, we're tossing names around here willy nilly, but they're just pointers as Bryan and the band are in full control here. You Remind Me Of Myself takes these pointers and reveals itself via an insistent propulsive beat of guitar and organ with the rhythm section motoring along before a grand climax. However, just as the listener is getting acquainted with this funkier sound I Went Down heads into darker territory with a much harder edge. Written by Damian Cafarella, the song slouches and slowburns wonderfully while the lyrics come across as a trainspotters guide to watery murder ballads with Down By The River and Knoxville Girl both alluded to. In a similar vein, they head into Nick Cave territory on the haunting Quit While We're Ahead.
There are no attempts to replicate Bryan's mastery of the sad country love song (see The Basics Of Love) but he shines on the delicate ripples of I Found God and the excellent lovelorn ballad that is The Road. Meanwhile, there's the shimmering beauty of Never Said A Word, a song polished and buffed so well but still retaining its soul. Radio friendly yet lyrically intriguing, it beguiles and fascinates.
As Long As It's Not Us is more proof that Lachan Bryan And The Wildes are some of the best purveyors of roots based "Americana" treading the boards these days. The album is well recommended and if you hanker for more then there's a live album, released digitally last year, which we would urge to have a listen to. It's available here.