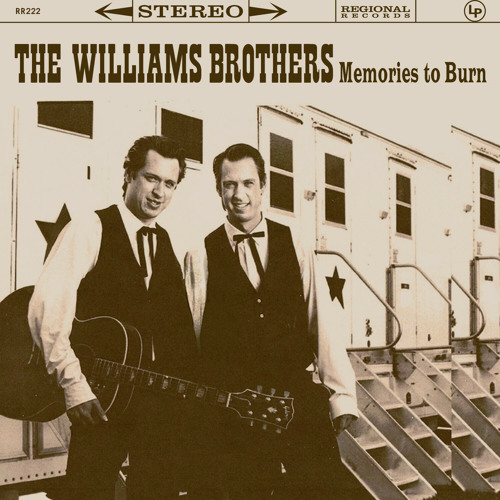 Sometimes a story is just too perfect to believe and this fabulous record stretched our credulity almost to breaking point. A pitch perfect 10 song blinder with an Everly Brothers sound-alike set of twins singing a tremendous selection of songs (including two by Robbie Fulks) and backed by a great trio of Don Heffington on drums, Greg Leisz on steel guitar and Marvin Etzioni on bass and production duties, recorded in 1995 and only now seeing the light of day? Hard to believe.
Some Googling backs this up. The Williams Brothers (David and Andrew), nephews of Andy Williams (it just gets better doesn't it) apparently did have some success in the late eighties and early nineties. How and why they then fell off the radar isn't too clear but apparently they went their separate ways leaving this nugget waiting to be discovered.
Anyhow, the twins plus their stellar trio recorded these songs live in the studio straight to tape, trying to recreate a Sun Records type of vibe. Etzioni is at the helm throughout, writing four of the songs on display with the Everly Brothers clearly in his mind. The songs swing and vibrate with a classic fifties sound reminding one of Elvis Costello and T-Bone Burnett in their guise as The Coward Brothers, evident from the opening cover of Fulks' Tears Only Run One Way which is nothing short of brilliant in its fulsome country lope with keening pedal steel and the twins singing as if conjoined. Obviously enjoying revisiting this age of rock'n'roll innocence, they tear through two songs which both have a heart of darkness to them as if they were playing a high school prom but then vintage rock'n'roll always had a bit of a death wish about it so their versions of Robbie Fulks' She Took A Lot of Pills And Died and The Kinks Dave Davies'  Death Of A Clown fit right in here.
Etzioni excels on the title track which is the most Everly like song on the album although it twists its way through key and tempo changes in an oddly intriguing manner. You Can't Hurt Me and Cryin' And Lyin' may be more straightforward but with Leisz's pedal steel driving the songs they are so authentic they almost hurt. And speaking of hurt, Unanswered Prayers is the follow up to Love Hurts you've been waiting all these years for.
As befits an album steeped in a 1950's vibe, the 10 songs here are delivered in a 22 minute blast but each minute counts and there's no sense of being short changed. It's a brilliant album and is highly recommended.