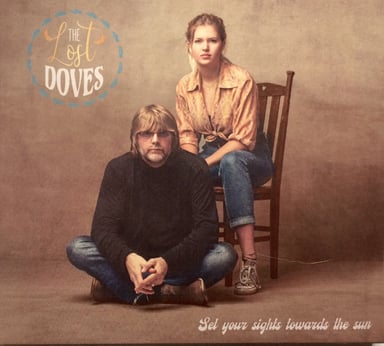 On a cold, damp and pandemic ridden January evening, what better way to enliven one's spirits than to have some Byrds' like jangly rock waft you to sunnier climes? Set Your Sights Towards The Sun (the clue is in the title, eh?) is the result of a collaboration between Ian Bailey and Charlotte Newman, both from the north east of England. Both sing and play guitar while Bailey adds the Rickenbacker chimes, bass and keyboards while drumming is handled by the winningly named Little Bobby Rockin' Box. All together they have crafted an album which, while heavily indebted to those brave Byrds and sundry other diverse sixties icons is quite stunning.
The bold, brash and melodic opening title song certainly allows The Lost Doves to set their wares firmly on the table. A Rickenbacker rush with Bailey sounding almost like McGuinn and with Newman adding heavenly female harmonies (something which never did happen in The Byrds canon), it's up there with those other recent purveyors of Byrds' like jingle jangle, Bennett Wilson Poole. There's a deeper dive into the definitive Byrds' sound a few tracks later on the glorious She's Waking Up To Close Her Eyes which captures some of that dreamy melancholia which Gene Clark brought to their early albums. However, there's much more to the album as Bailey and Newman wander into other closely related territories as on their  excellent take of the standard, Autumn Leaves, which comes across as if Francoise Hardy was being backed by The Pentangle while another cover, Scott Walker's Duchess is delivered as if it were an out take from CSN&Y's Deja Vu. Quite delicious.
While Bailey writes the majority of the songs, Newman shines on her song Waves. It's one of those crepuscular songs, best heard by candlelight, seductive and beguiling. Bailey's more singular songs cleave more to a pastoral English feel, You Stop Me From Falling, Wired Into You and See Saw, flutter like butterflies in a meadow although the first has some nettles underfoot. Another sixties beat combo comes to mind as Sally Weather sails in with more than a whiff of Liverpudlian psychedelic whimsy and the presence of an Indian Tampura on the cosmic harmonies of More Than I gives the song a slight touch of Maharajah fuelled bliss. This comes to a head on the fuzzed up Pebbles' like blast of psychedelic sonic soup which is The Clowns Are Coming To Town. If you had a tab ready at the start of the album, you might be lucky enough for it kick in just as this is playing – the garbled voices, backwards effects and downright oddness of it might just make sense. Initially, it just seemed to kick the album off kilter, but repeated listens have somewhat subdued it and it does lead nicely into the aforementioned Duchess which, in turn, is followed by a short sound collage which closes the album, a modern day equivalent of the dead space loop of Sergeant Pepper.
Buy Set Your Sights Towards The Sun here