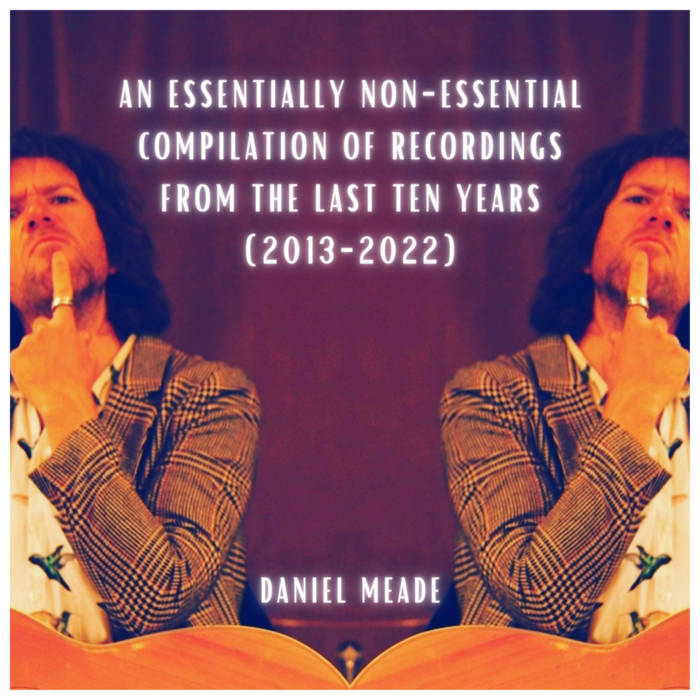 Whether you consider this generous helping of songs from the back catalogue of Glasgow's Daniel Meade essential or not probably depends on how essential you consider Daniel Meade to be. Certainly, from Blabber'n'Smoke's first encounter with the man (when he was supporting a then largely unknown Sturgill Simpson) we've been mightily impressed with him, as have a roll call of musicians such as the aforementioned Simpson along with  Old Crow Medicine Show and Diana Jones.
A bit of a musical polymath, Meade, after an early encounter with the heady world of rock'n'roll with The Ronelles (who were big in Japan), formed The Meatmen and then The Flying Mules, both forging a great live reputation before he set off on a solo career with As Good As Bad Can Be, the starting point for this compilation. The 21 songs here, handpicked by Meade, ranging from barrel house roustabouts, tear stained country songs and a handsome dash of well jollied honky tonk sing-alongs and whether recorded in Nashville or in Meade's own front room, make for a great album which serves as a fine introduction for those not already in the Meade camp and as a handy quick fix for those who have the albums these songs are garnered from.
The album opens with Keep Right Away, the title song of his 2015 album, recorded with members of Old Crow Medicine Show and featuring Joshua Hedley on fiddle. It's a fine example of Meade's ability to mix rock'n'roll with country as the band skiffle along and he plays some Jerry Lee Lewis piano runs. The following Juliette jumps with a juke box jive with Meade channelling New Orleans greats such as Fats Domino while his regular guitar foil, Lloyd Reid appears with some scintillating guitar runs. There's more of a pop sensibility to the next song, These Things Happen which, according to Meade, was influenced by his time supporting The Proclaimers. In the liner notes he states that the song is "not quite as good obviously" as anything the twins have delivered but he does himself an injustice here as it's a grand guitar and horn fuelled number which has the crowd pulling effect of the Reid's and is given a rumbustious delivery.
Three songs in and three quite different styles already. It's a mark of Meade's magpie ability to pluck treasure from wherever he lands and the remainder of the album confirms this. There are rousing live versions of It's Not Your Fault It's Mine and What You Waiting For along with a superb Bullets And Bones which all have a rockabilly heart while songs such as Let Me Off At The Bottom, Not My Heart Again and Sleeping On The Streets Of Nashville are country delights while there's even a touch of Motown/Stax mod grooviness on the stomping By The Book. Dialling it down, Meade can deliver intimate moments as on the plaintive Fixing Quicksand and the tender love song which is Shooting Stars & Tiny Tears but one of the best moments on the disc is the very simple and very excellent Cocaine Jane which, once again, features the excellent guitar playing of Lloyd Reid. All in all, an excellent collection of songs.