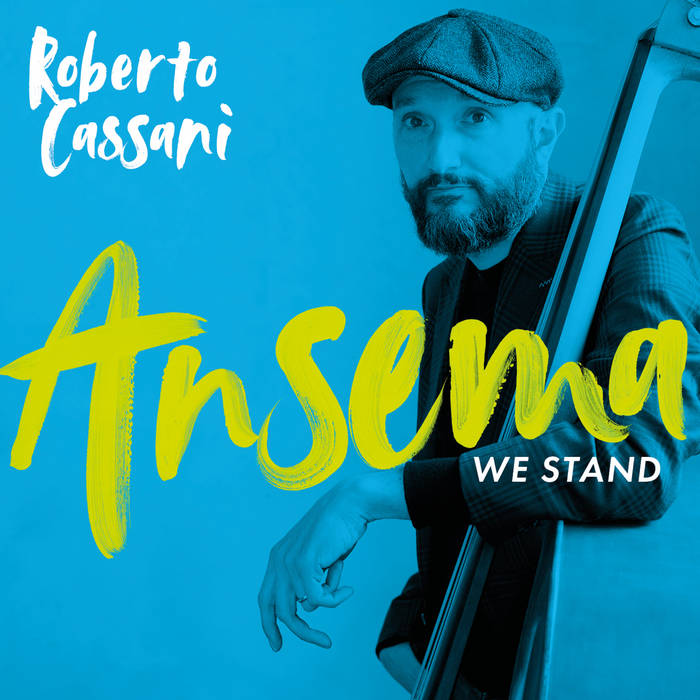 Last time we encountered Roberto Cassani, the Perthshire based, Italian born double bassist, was on his 2019 album, Oh!…L'Amore!, an autobiographical affair. It was far removed from his earlier work which was often comedy based, with Cassani encouraged to offer up more personal songs by his friend and mentor, the legendary Danny Thompson. Ansema We Stand maintains this shift into a more "serious" mode as Cassani delivers an album sung in Rivoltino, the endangered language of his native Lombardy, and marries this to an exquisite set of songs which reflect his Italian heritage but also have a great deal of Scottish traditional music woven throughout.
Cassani says of the album that "It values the influence Scotland has had on me over the years, while allowing me to create the first ever piece of art in my native dialect. It's a proud moment. Covid was a bit of a starting point to celebrate what we can achieve as small communities to help each other and from this, comes a universal message: culture and community are essential to survive and flourish, especially in hard times." To this end, the small community gathered around Cassani on the album consists of a storied roll call of venerable Scottish players – Anna Massie on guitar, fiddle, mandolin and tenor guitar, John Somerville on accordion, Steve Fivey on drums and percussions, Ross Ainslie on pipes and whistles, Hamish Napier on piano and flute and Greg Lawson on violin. It's a terrific ensemble and they truly carry off the premise of celebrating the two cultures.
Several of the songs feature music which not be out of place on recent Blue Rose Code albums. That swirl of Caledonian mists and mystery are evoked several times on songs such as Dolina, Erio In Corsia, and, in particular, Mpedtada Quarantena. Italy is more pronounced on the enchanting L'Ada (which still has a Celtic sweep to it) and on two songs which open the album. Ansema translates from Rivoltino as Together and so the album begins by saying we stand together. The title song is a perfect mix of the two cultures; imagine Paulo Conte backed by Lau. It's followed by Evviva which has the joy and exuberance of Italian popular music (think of Luna Mezzo Mare from The Godfather's wedding party) allied to the skirl of trad Scots music. Quite magnificent. The closing song, An Basi (apparently a translation of a Robert Burns poem), serves to remind us that Cassani is a well respected double bass player, schooled by the Italian jazz bassist Giovanni Tommaso, as his instrument bounces and resonates under his dextrous touch on a superb solo performance.
This is certainly the most "complete" album we've heard from Cassani and it certainly achieves his aim of marrying two cultures. That it does so with such aplomb should certainly put it in line for some awards when they start handing out Trad music gongs.