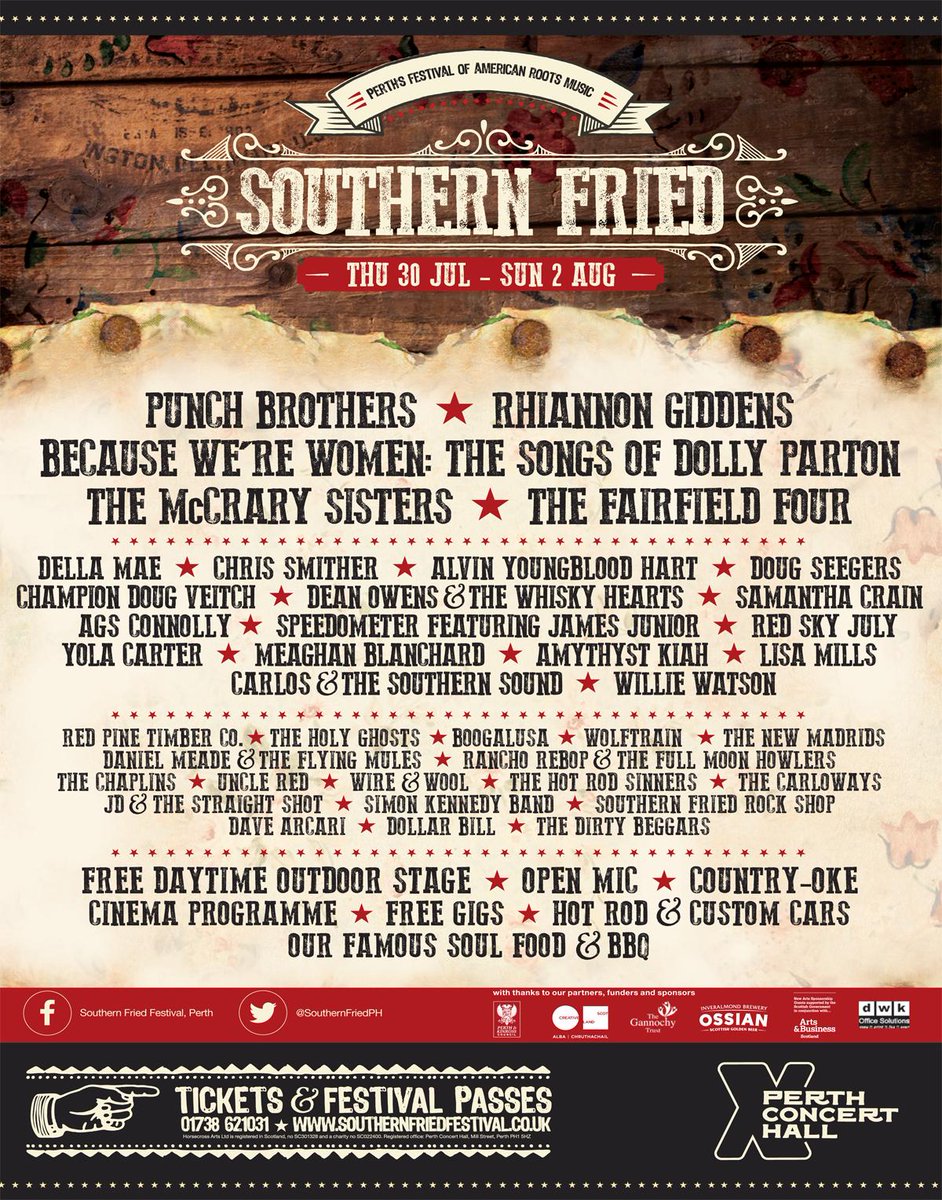 This weekend sees the eighth Southern Fried Festival in Perth headlined by the PUNCH Brothers, Rhiannon Giddens, McCrary Sisters and The Fairfield Four and featuring an all-women celebration of the songs of Dolly Parton.The Festival which was awarded the Scottish Event Awards Best Small Festival in 2014 takes place in Perth Concert Hall and other city centre venues. Other confirmed acts include Chris Smither, Alvin Youngblood Hart, Speedometer featuring James Junior,  Della Mae, Red Sky July, Dean Owens and the Whisky Hearts, Yola Carter, Amythyst Kiah, Meaghan Blanchard, Boogalusa, Wolftrain, The Holy Ghosts, JD &The Straight Shot, The red Pine Timber Company, The New Madrids, Dave Arcari and Daniel Meade & The Flying Mules.
Friday 31 July in Perth Concert Hall sees two of the most talked-about emerging Americana acts take to the stage in a unique double-bill. With interests spanning indie rock, folk, jazz, bluegrass and classical, US five-piece Punch Brothers dazzle with their virtuosic playing. They will be joined by Rhiannon Giddens who Southern Fried audiences will remember from Grammy Award-winning Carolina Chocolate Drops.Combining gospel, jazz, blues, and country, plus a hint of proto-rock and roll, Giddens displays an emotional range to match her dazzling vocal prowess throughout.
A superb all-female line-up of singers and musicians will gather in Perth Concert Hall on Saturday 1 August for Because We're Women: The Songs of Dolly Parton, a celebration of the songs and influence of the Queen of country. House band, bluegrass quintet, Della Mae, will back an array of vocal talent brought together specially for this show including latest Southern Fried discovery Amythyst Kiah from Tennessee, Prince Edward Island's Meaghan Blanchard (this year's representative of Southern Fried's partnership with the East Coast Music Association in Canada), Yola Carter formerly of Southern Fried favourites Phantom Limb, Samantha Crain and Nashville gospel legends, the McCrary Sisters, making a greatly anticipated return to Perth. The uplifting finale to the festival on Sunday is Rock My Soul, a celebration of the power and the glory of the black gospel tradition starring the McCrary Sisters, The Fairfield Four and guest singers.
The Salutation Hotel, a favourite after show haunt with Southern Fried acts, steps in once more to host Saturday and Sunday afternoon gigs as well as the iconic Late and Southern Fried gigs on Friday 31 July and Saturday 1 August after the main stage shows in Perth Concert Hall. The Late and Southern Fried line-up will include classic soul and funk from Speedometer featuring James Junior, Yola Carter, Meaghan Blanchard, Della Mae, Amythyst Kiah and Doug Seegers, an artist with a back-story that would grace any classic country song. Afternoon shows at The Salutation Hotel include Scottish Americana from Dean Owens and The Whisky Hearts with Ags Connolly on Saturday and an afternoon of world-class blues with solo sets from Alvin Youngblood Hart and Chris Smither on Sunday.
There will be an expanded line-up of smaller gigs in city centre venues, including a free launch party in the Twa Tams on Thursday 30 July and the Southern Fried Open Mic in Greyfriars Bar on Sunday afternoon. The Southern Fried outdoor stage returns for the second year showcasing the huge range and quality of roots talent on our doorstep, Perth Playhouse will host a film programme for the first time and, as ever, the whole festival is fuelled by the famous Southern Fried soul food and served up with a warm slice of Scottish hospitality.
Festival director, Andy Shearer, said:
"I am confident that Southern Fried 2015 is the most exciting line-up we've presented to date. At the heart of the festival, we have secured three completely unique show-piece performances for Perth Concert Hall.
"Our opening night sees the mouth-watering one-off double bill of two of the most talked-about young acts on the Americana scene, the amazing virtuosity of Punch Brothers and the wonderfully-expressive voice of Rhiannon Giddens. Saturday night brings the welcome return of our occasional tribute concerts to the great icons of American roots music and this time we'll be exploring the treasure trove of songs written by Dolly Parton with an all-female line-up of superb musicians and singers. Bluegrass quintet, Della Mae, were recently named by Rolling Stone magazine as one of the Top Ten acts of this year's SXSW festival in Austin and will anchor the evening as our house band, backing an incredible array of vocal talent brought together specially for this show. We close the festival on Sunday with Rock My Soul, a celebration of the great depth and breadth of southern gospel performed for the first time outside the USA where it has been the subject of a highly-successful TV special on PBS. Starring the McCrary Sisters and the legendary acapella quartet their father sang with for many years, The Fairfield Four, Rock My Soul also features several guest singers and will provide a wonderful uplifting finale to a fun-filled weekend"
Andy continued: "Our mantra has always been that the song is the uniting factor across the many styles of music that Southern Fried embraces and this is amply reflected in these three headline concerts and throughout the festival line-up. Some superb songwriters exhibit their craft in the afternoon shows at the Salutation Hotel; Scottish Americana from Southern Fried perennial, Dean Owens, performing with a full band for the first time on Saturday and a superb afternoon of blues with solo sets from Alvin Youngblood Hart and Chris Smither on Sunday. The song remains the same for our late night shows at the same venue where the line up will include Yola Carter, Meaghan Blacnhard, Della Mae, Doug Seegers and Amythyst Kiah.There's another new innovation, a film programme in partnership with the Playhouse Cinema."
Tickets available from Horsecross Arts box office on 01738 621031 http://www.southernfriedfestival.co.uk.
Here's a snapshot of last years festival
(Thanks to Jon Langford for the Dolly painting)