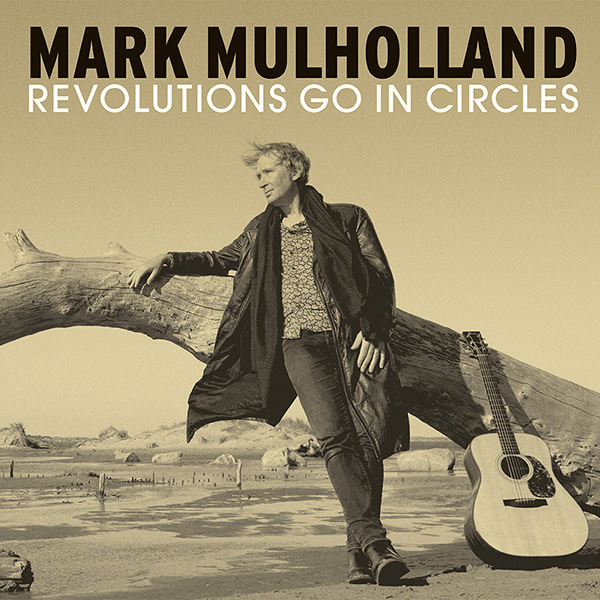 Mark Mulholland is a Glaswegian musician who has been a bit of a globetrotter over the years, spending time living and playing in European capitals such as Prague and Berlin while also being heavily involved in the burgeoning wave of African music including producing an album by Tamikrest. On Revolutions Go In Circles he bridges these worlds with a set of songs which in the main are jangled folk rock laced with subtle sub Saharan delicacies. With players such as Toumani Diabate and the late Tony Allen on board, along with musicians from the UK and the States, this truly is an international affair and it is quite an engaging listen.
The album is a collection of songs recorded over the past ten years in various locations. Lockdown allowed Mulholland the luxury of revisiting them and giving them a final polish with additional contributions sent in via the internet. It was nice to see a Blaber'nSmoke favourite, Orit Shimoni featuring heavily on the album adding backing vocals on several of the songs. One thing which struck us on listening to the disc was Mulholland's stylistic similarity to another musician much admired here, namely Jason McNiff. The pair share a vocal similarity and also an affiliation to the songs of Bert Jansch and a song such as Silence Falling Snow could easily be mistaken for a McNiff song. They are indeed fellow troubadours.
The album opens strongly with the brisk folk rock of Moving On, loosely based on a hitch-hike through Spain but really an opportunity for Mulholland to toss in a litany of literary and musical heroes which, unsurprisingly, will be familiar to most who were baby boomers and travelled bohemian highways in their youth. In a similar vein, Filling Up The Silence finds Sean Condron's banjo to the fore on a song which recalls Mulholland's days living in a dingy Berlin squat while Getting There is a jangled and bejewelled minor gem of a song which shares some of its melody with Another Girl, Another Planet but remains firmly within Mulholland's troubadour orbit. His nomadic ways are addressed in the fine Celtic airs of Live Anywhere and youthful ambitions are recalled on the excellent Your Race Is Run, a laid back, Dylan like rumination.
A brace of songs rely more heavily on Mulholland's African connections and the first of these is the bustling River Walk, powered by Tony Allen's drumming and with Yacouba Sissoko's variety of instruments including n'goni (an African harp like instrument) sounding much like it were Tamikrest backing the singer. Walk A While cleaves to a western notion of a folk song but it twinkles with delightful kora played by Diabate, a wonderful example of the fusion Mulholland seems capable of achieving. The album closes with an even better example as Mulholland, accompanied by Baba MD, sings 900 Miles, a traditional American song he first heard from a Bert Jansch version but here transported to Mali. It's quite gorgeous.