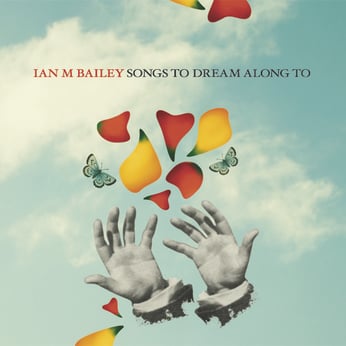 Following on for their collaboration on the Shots Of Sun EP, Ian M. Bailey and Glasgow's Daniel Wylie have co-written this full length album which, as with Bailey's (and Wylie's) previous releases, is a quite joyous celebration of 1960's sunshine paradise pop, as practised by The Byrds, The Beau Brummels, The Association and many others, and the soft rock sounds of the early 70s as exemplified by America, Seals & Croft and numerous offshoots of the whole Byrds/CSN/Burritos clan.
Bailey remains a one-man band, playing all of the instruments (aside from a string section on The Sound Of Her Voice) and, as before, it's quite impressive that there's no hint of this in the final delivery. The songs are fresh and show no sign of being assembled whatsoever and the harmony singing (again all Bailey) is outstanding. Listen to Everything Will be Alright and try not to imagine that it's a band like the trio America singing it.
Bailey is an experienced practitioner in the art of 12 string Rickenbacker jangle and this is to the fore in the opening song, This Is Not A Feeling which opens with a Beatles' like acoustic guitar strum before the 12 string sparks up and we are offered a Gene Clark like song which aches with a romantic melancholic feeling. Take It Or Leave It is in a similar vein with more mid 60s' solipsism although here it's less melancholic given the powerful thrust of the verses and the waves of keyboard which pump throughout the song. Further along the track list, Slow Down River and Just Like A Child (Dream Catcher) remind one of the latter day Byrds, their jangled pop reined in by the likes of Clarence White and Gene Parsons who brought in new sensibilities rooted in old American music. Meanwhile, I'm Not The Enemy, still suffused with gleaming 12 string, is more akin to the Paisley Underground bands who revitalised these sounds in the 80s, even though its lyrics remain rooted in the original psychedelic underground.
As we said, Laurel Canyon and its denizens also loom large and it's easy to imagine songs such as A Place To Live, Everything Will be Alright and The Sound Of Her Voice being performed by a sensitive soul on The Old Grey Whistle Test back then. The latter in particular, with its sweeping strings, reminds one of Dan Fogelberg which, we have to say, is no bad thing. The highpoint is the delicately delivered and harmonious What's Happening Now which is a dreamlike meander with gently flowing guitars along with a slight undercurrent of menace courtesy of a muted yet decidedly psychedelic electric guitar. There's also fun to be had in the mock Eastern exotica of Midday At The Hope Lodge which can't help but remind one of The Beatles' flight from the murderous cult pursuing them in their movie, Help!
Despite the surplus of names we've mentioned, Bailey and Wylie have come up trumps with Songs To Dream Along To. It's a glorious listen that certainly rises above its influences.