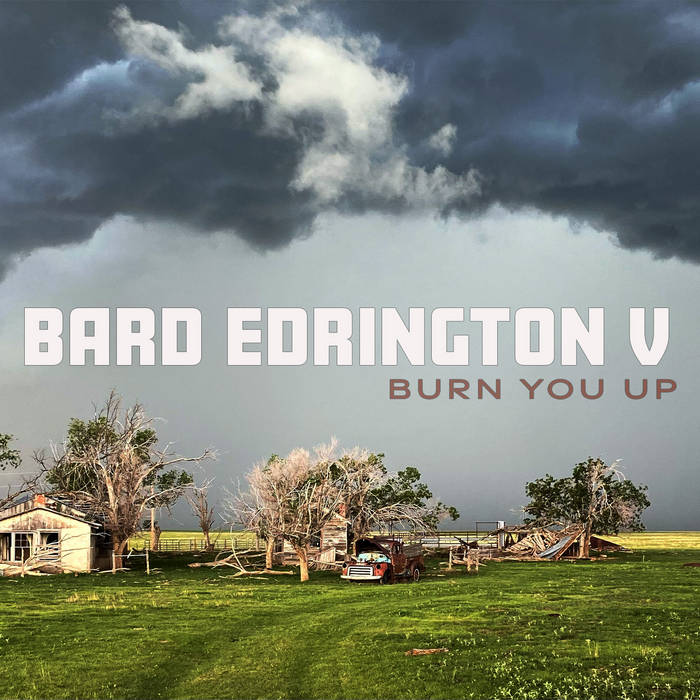 Fairly hot on the heels of his last release, the superb Two Days In Terlingua, Bard Edrington V returns with Burn You Up, a relatively slimmed down version of its predecessor which, nevertheless, is just as vital a slice of rural American folk music.
We say slimmed down as Edrington is here backed by a more straightforward line up than on Two Days In Terlingua. Basically it's just him and The Blackbirds (brothers Bill and Jim Parker playing guitars, bass and drums) along with Karina Wilson on fiddle, a compact unit but one which can perfectly deliver tub thumpin' country rock (as on All I Can Do) one moment and then lay down a song like the glistening Die Into It the next.
Edrington remains a master story teller whether singing of his father ("a truck driver and self made man") on the opening song Sand And Gravel or recounting the role a bootlegged liquor played in 19th century New Mexico as it inflamed the settlers, leading to a revolt which resulted in the death of the then Governor of the state on Taos Lightning. He's also acutely attuned to his surroundings. The album was recorded was in Santa Fe as a huge wildfire raged only some miles away and on Fire And Rain Edrington delivers a lovely reverie which muses on those opposite forces of nature.
The band snake through the gritty All I Can Do in an ornery mood which recalls the best of Waylon Jennings with Wilson delivering a fiery fiddle solo and Back Roads Of My Mind has a delightful sense of Western Swing meets cosmic country to it as Edrington extols the benefits of the occasional dose of psilocybin. Those hallucinogenic brown pellets also figure on Die Into It which comes across as a mongrel offspring of Carlos Castaneda and Sam Peckinpah, writing a song about an existential crisis. Speaking of Peckinpah, there are movie pickings galore in the glorious country skirls of Two Days In Terlingua which has echoes of Michael Hurley woven within it and on the evocative Chiapas, a delightful border country waltz which evokes, in its essence, Townes Van Zandt.
A veritable bard of American folklore, Edrington deserves to be heard and lauded, both for his solo work and for his albums with The Hoth Brothers. Burn You Up is, simply put, quite wonderful.
You can buy Burn You Up here