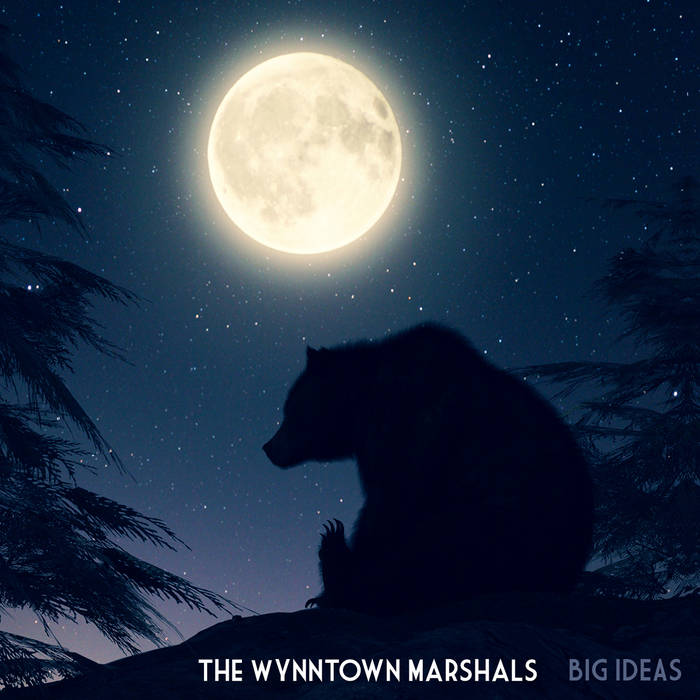 When Scotland's Wynntown Marshals ("Europe's best Americana band" – Americana UK) sat down to record their follow-up to 2015's The End Of The Golden Age they couldn't have imagined in their wildest dreams that the title of that album would be somewhat prophetic. Big Ideas was first mooted back in 2018 but, and not for the first time, the band saw a shift in personnel which led to a settling in period which then of course was prolonged when the world shut down due to Covid. So, it's been a long wait for this album but there's an upside to that with the band having had the opportunity to polish Keith Benzie's songs to perfection. It's always difficult to improve on excellence but the listener, after a few plays here, might be correct in surmising that this is the most fully realised Marshals recording so far.
Front and centre is singer and songwriter Benzie who writes all the lyrics here, the first time since their debut album Westerner (which did have a cover of Ballad Of Jayne, An L.A. Guns number and an indication that The Marshals were not to be simply marshalled into a country rock genre). The music behind his lyrics is credited to the Wynntown Marshals, an indication that the band are speaking with one mouth here, leading to a more unified listen. For sure, they remain true to their core sound, generally a heady mix of Wilco like yearning allied to jangled Petty/Byrds like anthems along with a healthy dose of lesser known outriders such as Canada's The Weakerthans, but that core sound is now undoubtedly that of The Marshals. They're recognisable from a million miles away with Benzies's voice the focal point.
Having said that, the return of Ali Petrie on keyboards is welcome, with his introduction to the opening song, New Millennium sounding not a million miles removed from Roy Bittan of Springsteen fame. The song soars from the start with Iain Sloan's guitars chiming over the piano as Benzie sings an anthemic celebration of youthful hopes and ambitions. Those hopes and ambitions have somewhat soured on the following title song which, while still romping around with glistening and chiming guitars, is more pessimistic in its outlook. The band's ability to hone in on pitch perfect jangled power pop is again evident on the excellent Learn To Lose which gradually builds to a Tom Petty like crescendo of crashing guitars and perfect harmonies with Sloan delivering some Byrds like solo guitar and there's much more of that in Treat Me Right, a crunchy guitar driven number which finds Benzie ruminating on the tattered remains of a relationship, the band weighing in like, well, The Band, the song culminating with fiery guitar duetting as reminiscent of Wishbone Ash as it is of The Allmans.
On a gentler note there's the warm melody of Tourist In My Hometown, a fine example of Benzie reminiscing on his past with the opening verse surely familiar to anyone who recalls their student days. On Keys Found In The Snow, Benzie extrapolates from a notice in a window to meditate on the possibilities and stories behind the lost keys, the band superbly restrained with Sloan's pedal steel and Petrie's electric piano adding just the right amount of light and shade. In a similar vein, although in a much more robust sense, the band create a hypnotic backdrop on The Missing Me which is not too far removed from the lyrical guitar epics of Israel Nash and Peter Bruntnell.
Most Marshals albums contain a history lesson of sorts and on this occasion Benzie visits the battle of Stalingrad on The Pocket. That he takes this grim tale of starvation and death and transforms it into a gorgeous lament, suffused with hope among the suffering, is quite remarkable. The album closes with the plaintive Full Moon, Fallow Heart with Benzie front and centre, his voice and guitar accompanied by piano. It's a philosophical rumination on the choices we make, the mistakes and slight triumphs we gather over the years with Benzie musing that life is both perfect and less than perfect, an eternal conundrum.