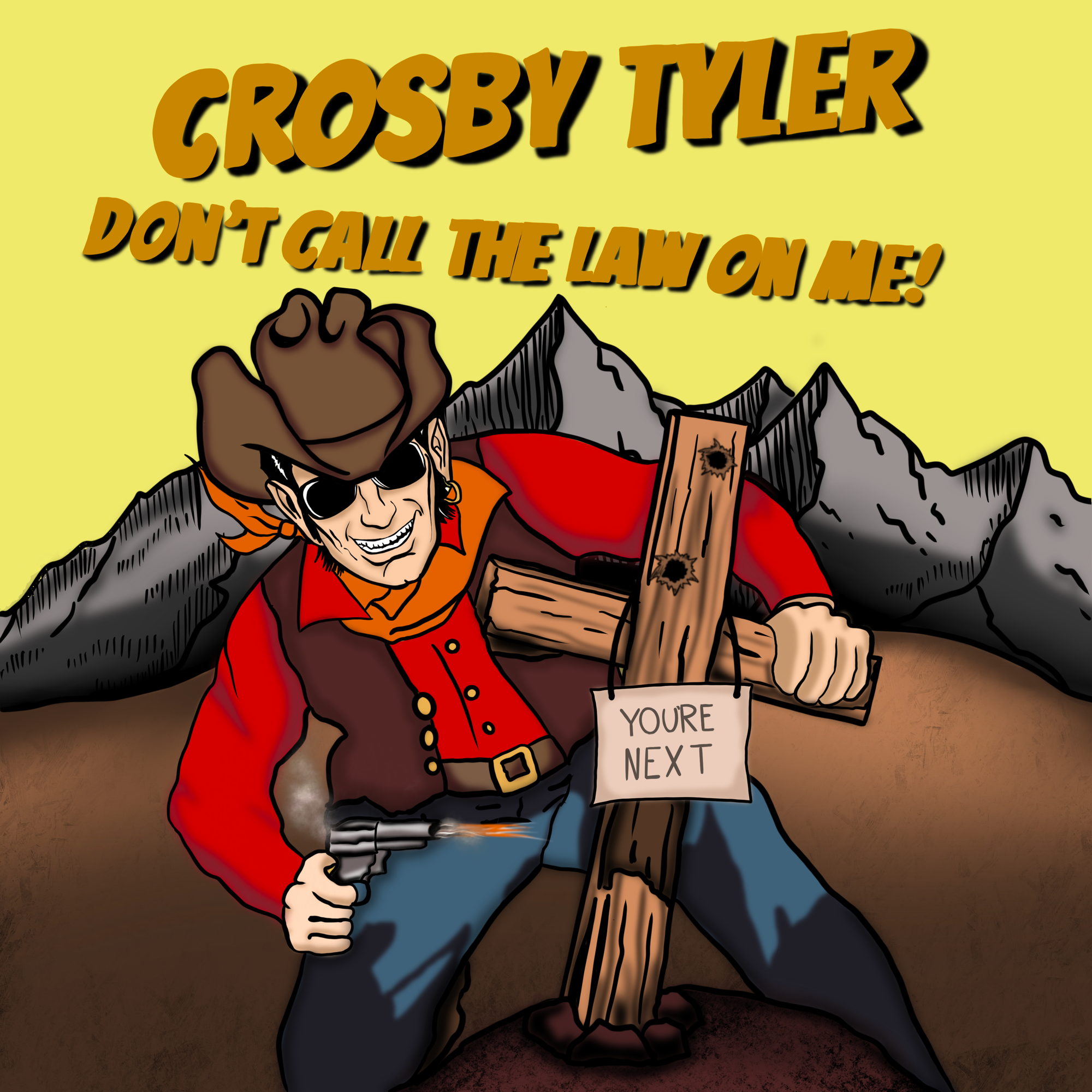 It's been a long time (eight years actually) since we last heard from Crosby Tyler, one of those American artists who really delve into the roots of Americana – folk, blues, country and all points in between. He's come across as a hobo, a blue collar singer songwriter and a veritable one man band on previous releases and worked with the likes of Peter Case and Nickel Creek. Don't Call The Law On Me (featuring Aubrey Richmond (Shooter Jennings) – fiddle, back-up vocals, Jeff Turmes (Mavis Staples) – bass, Dale Daniel (Hacienda Bros) – drums, Mike Khalil-pedal steel, electric guitar, Kimbra West – back-up vocals) is described by Tyler as "Involving more pedal steel and Telecaster guitars — my most countryish album to date" citing influences such as Buck Owens, Kris Kristofferson, Willie Nelson, David Allan Coe, Waylon Jennings, Johnny Cash, Todd Snyder, Robert Earl Keen and Shel Silverstein. Quite a list but, sure enough, Tyler pulls them all together for what is an engaging, rough and ready listen.
The outlaw element is immediately apparent when the title song opens the album. Tyler's well worn voice is enlivened by Kimbra West's harmonies as the band work up a fine country rock sweat on a tale of a drunken fist fight. This rangy and nicely ragged sound, not a million miles removed from Doug Sahm's rockier moments, is revisited on several songs including Tyler's plea for world peace on the swinging Peace, Love & Beer and on his observations on the dark underbelly of rural life on Us Black Sheep We Ain't Like The Others as he sings, "Us black sheep we ain't like the others, We were born to be rowdy mother fuckers, Our blood's hustling, dealing, stealing, and some days killing." Best of all is the shit kicking country rock romp of Bikers, Hippies And Them Honky-tonkin' Cowboys with its raunchy Telecaster and buzzing pedal steel. Tyler also tosses in a couple of truckers' songs in the shape of Trucker On The Road and 18 Wheels Of Steel, both of them quite exhilarating.
Slowing the pace, Tyler turns in a brace of powerful songs including the jail house lament of Born A Bad Boy which rides on a menacing beat with Aubrey Richmond's fiddle sparring with Mike Khalil's keening pedal steel. That fiddle and pedal steel are then accompanied by some very tasty chicken picking country guitar licks on Stop Being An Ol' Redneck, a sly dig at modern times – "The radio don't play no David Allan Coe, It's just Hip hop and this bitch, And it sure don't twang my soul, Ye all on Facebook and Instagram." Finally, there's the excellent The Family I Never Had which finds Tyler singing about the remnants of a band who almost made it big but whose members are now either dead, in jail, serving in a food store or being Jehovah's Witnesses. It's quite brilliant and Tyler's delivery can't help but remind this reviewer of Ian Hunter's Ballad Of Mott The Hoople, although in this case the band in question were Tennessee bred.
Coming out of the blue, this album was a very pleasant surprise. Tyler has a gruffness in his voice which reminds one of John Hiatt and he writes with acuity on American dreams, most of them unfulfilled. Meanwhile, the band is a great little combo and a joy to listen to.