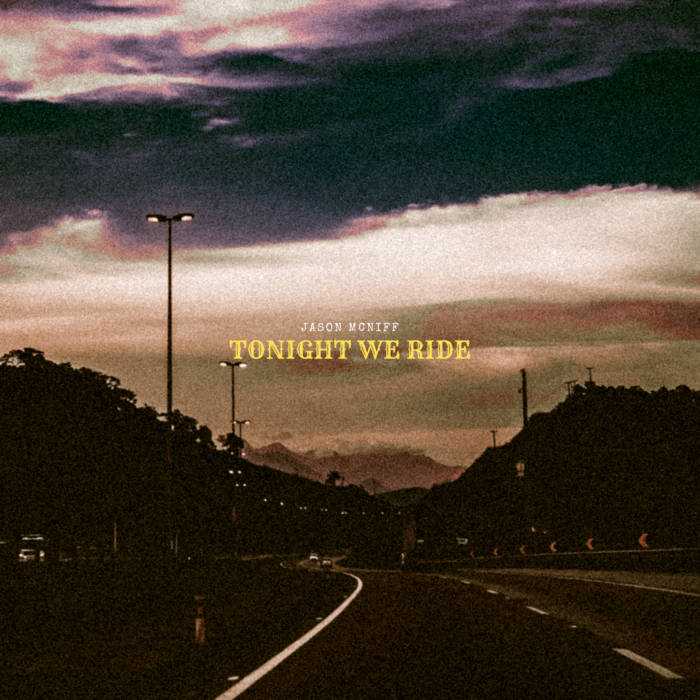 Having spent much of lockdown streaming his weekly Sundowner show (previously held in The Jenny Lind in Hastings), Jason McNiff grew to love the opportunity to play covers of songs he loved and those requested by his virtual audience. Hence, his first post pandemic release is this fine collection of handpicked covers. Given McNiff's history there's no surprise that two of his major inspirations, Dylan and Bert Jansch, feature twice and the inclusion of Townes Van Zandt won't raise any eyebrows but the remainder are an eclectic bunch. What's certain is that McNiff delivers all in his distinctive style, his wispy vocals, guitar wizardry and fleet footed folk rock are all present and correct and, just to remind you that he is a writer of some distinction, he includes two of his own songs, one of which actually stands out as the best of the album.
The songs feature McNiff in solo mode and with a rhythm section (with two being more embellished) and much of the album highlights McNiff's undoubted prowess on various variations of guitar – acoustic and electric, resonator and Spanish guitar. Lest one forget, one of the enduring tales of his formative years is that McNiff was a permanent fixture at the late Bert Jansch's six month residency in London's 12 Bar Club, soaking up the maestro's style and so it's fitting that the album opens with a song from Jansch, Running From Home, taken from his 1965 solo debut. It's more jaunty than the original and flows with some zest, reminding one of the folk tradition blooming in the UK in the mid sixties in the wake of Dylan. In comparison, another Jansch song, The Open Road, originally recorded 30 years later is darker and much more rooted in a traditional folk idiom. McNiff, solo in this case, delivers a stark and chilling reading.
It's interesting to hear McNiff sing a Townes Van Zandt song. The Texan's gruff fatalism on My Proud Mountains seems more fragile and less defiant in McNiff's rendition while the Texas dirt is replaced by a rainy London town feeling. Similarly, Dylan's One Too Many Mornings, while it has a mid sixties organ swirl to it, sounds as if it would be more at home on a Pentangle album. Meanwhile, the other Dylan cover, Precious Angel (from Slow Train Coming), strips away the original's sheen and is a delicately flecked confection of glistening guitars.
The guitarist on the original Precious Angel was Mark Knopfler and Dire Straits' Tunnel of Love is one of the more surprising covers on show here. Suffice to say that McNiff performs much the same trick as on the Dylan number, the song stripped of its gloss and given a superb, primarily acoustic makeover. Even more stripped back is his resonator guitar led and gnarly rendition of The Waterboys' Fisherman's Blues which, having heard it means this reviewer need never go back to the original as this is just perfect. McNiff has a knack for reducing songs to their basic elements and he delivers a wonderful solo rendition of Leonard Cohen's Moving On, his Spanish guitar encompassing all of the original's Grecian dressings, while The Beatles' Tomorrow Never Knows comes across like a hybrid from Donovan and the very early Jefferson Airplane. Reaching way back, a live rendition of Stephen Foster's 19th Century song Hard Times harks back to Greenwich Village years, a delightful reminder of vintage times but, all too sadly, very pertinent to these present days.
The title number, a Tom Russell cover, is the most full on song here with the band in full flight. Less melodramatic than the original it's more in keeping with Dylan's Desire era outings. The band are also in fine fettle on McNiff's own song, I Remember You. It's a glorious song and played here with a sense of joy which, amidst some splendid song covers, might be considered to be the most memorable song here. Whatever, it's the crown in what is an exceptionally fine album from an exceptionally fine artist.