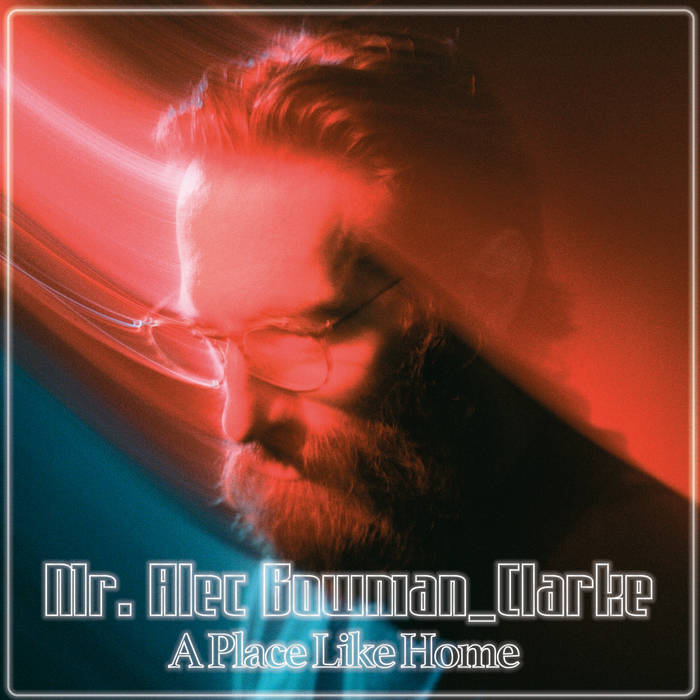 When Blabber'n'Smoke reviewed the then Mr. Alec Bowman's album, I Used To Be Sad & Then I Forgot, we said, "It's a brave album. It's dark, but then without dark we wouldn't have any light. And beyond the darkness, the songs, arrangements and performance are quite superb." Light and shade continue to colour his music on this five song EP which was recorded in three days with Bowman_Clarke accompanied by his now wife Josienne Clarke (who produced and played on I Used To Be Sad & Then I Forgot) along with Lukas Drinkwater, both of them playing several instruments. The EP is not dissimilar to the previous album with Bowman_Clarke's voice still somewhat world wearied, dispassionate almost. Comparisons to Cohen remain tempting but here there are also moments when the likes of Syd Barrett and Lou Reed come to mind.
Were he just a sound-alike, singing bedsit songs to cast out his demons, Bowman_Clarke would still be worth a listen, but he ventures forth here with a quite glorious set of songs which almost limp from the speakers, bruised and friable, on the verge of falling apart. Josienne Clarke adds her voice, saxophone and clarinet to the mix, providing some colour to the overall sense of chiaroscuro, but this is downbeat music with a capitol D.
A sound effect, we think of an old-fashioned film splicer, opens and closes the first song, Deleted Scenes. Here Bowman_Clarke searches for meaning within the mundane – the discarded memories and cast offs which constitute one's experience as we hurtle from cradle to grave in what is essentially an existential soul search. The abrupt end to the song might be seen as high comedy – the editor wearied of Bowman_Clarke's murmurings, cutting him off and discarding him – or a nod to the fact that, search as we may, the end can come out of the blue.
The Ghost Of Mistakes recalls the folkier elements of I Used To be Sad & Then I Forgot with its simple melody and breathy clarinet, as Bowman_Clarke burrows into domestic bliss and its precarious harmony. It's a path riddled with past mistakes which have to be delicately managed but overall, it's gently optimistic. Speaking Of Guns is the starkest song here with the guitar quite scabrous and slashing away as Bowman_Clarke dissects his song writing with a reference to Checkov's principle that, if you mention a gun in a story then you should end that story with the gun being used. That aside, the song comes across like Lou Reed singing a seriously sad Syd Barrett song.
A Red Light In A Darkroom revisits some of The Ghost Of Mistakes territory, carrying forward that slight hint of light at the end of the day, and the disc closes with the title song which is decidedly Leonard Cohen like, especially with its hotel reference at the beginning. Sounding like a subdued out-take from Death Of A Ladies Man, it's a song of solitude and longing, the singer insomniac and stranded, his lifeline the phone and the promise of home comforts. It's a terrific close to what is a very impressive set of songs. Not your regular moon in June type by a country mile but an intriguing insight into the current state of mind of Bowman_Clarke and a fine retort to Dorothy's belief that there's no place like home.