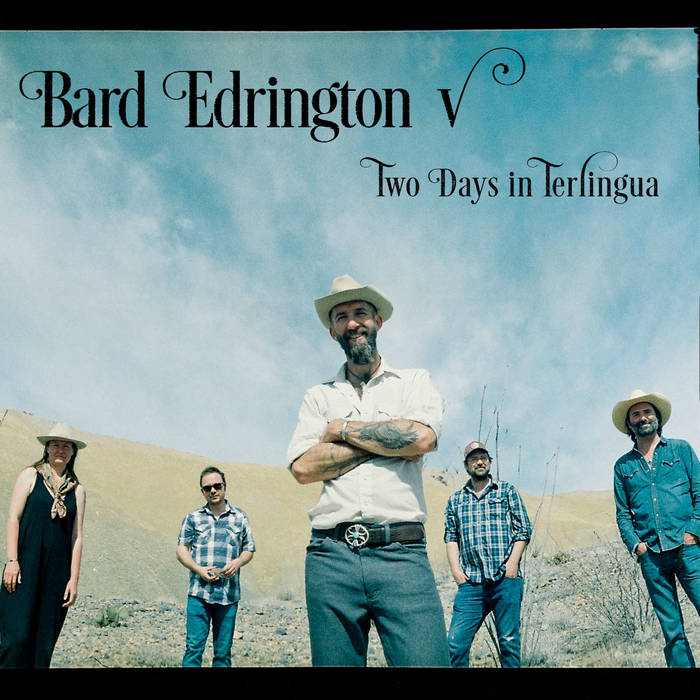 Terlingua, situated in south Texas, might only have a population of 58 but it has featured in movies (including Paris, Texas) and has acquired the title of being Texas' ghost town. Its abandoned mine works are a tourist attraction for hardy tourists, willing to endure the desert heat and, amidst its parched buildings, there's a one hundred year old church still standing. This church was the location selected by Bard Edrington V to record this album in as live a manner as he could. The songs were all recorded live in a matter of two days, the band in a circle, playing to each other, no overdubs, the real deal.
Edrington has, over the past couple of years, proved himself to be quite a superior songwriter, both on solo outings and as one half of the Hoth Brothers. Here he excels himself. Having gathered a tremendous set of players to accompany him (Karina Wilson on vocals and violins, brothers Bill  and Jim Palmer on bass and drums, Alex McMahon on pedal steel, banjo and guitar and Zoe Wilcox on backing vocals) he digs deep into traditional American folk themes and comes up with a startling selection of songs. The band meanwhile gel so well it's difficult to believe that this is a "fly on the wall" recording and, while there are moments which recall the likes of Townes Van Zandt, there are others where the band delve into electric folk blues as practised by The Cowboy Junkies on their acclaimed Trinity Sessions album.
Opening with Ramblin' Kind, a title which surely nods towards to Hank Williams, Edrington leads the band on a jaunty folk number with twirling fiddle to the fore which introduces a character who seems to haunt much of the album. A drifter – jobs here and there, sleeping rough and prone to wallowing in booze. He's an American Everyman, down on his luck, and much of the album is about his compatriots and their share of bad luck and struggle. The mood darkens on the grungy Dylan like Property Lines which has Wilson sawing away like Scarlett Rivera as the band plunge into muddy waters, guitars wailing and flailing away to keep from drowning. It's an epic song and is given an epic treatment.
Similar tales of bad luck and trouble fall into place throughout the album such as on the bittersweet country styling of Shut The Screen Door, the loping country blues of A New Day On The Farm and the stark death rattle of Black Coal Lung. All of these are quite excellent but Edrington tops them with a couple of songs which just about defy description. Nevertheless, here we go. Bard And The Bears is an ancient sounding song of the type we are used to from Michael Hurley. The song scrapes along as Edrington inhabits the flora and fauna of his youth while the band slowly pile in with jagged guitar and an insistent fiddle motif gradually taking over. Strange Balloon meanwhile finds Edrington musing on the night sky and the possibility of life out there, over a quite intoxicating rumble of guitars, fiddle and percussion.
Coming back to earth, Masterpiece Of St. Mark's Square seems to be an impressionistic painting of some happy times in Venice while Athena's Gaze is a full blown flowing folk rock number which alludes to the power of ancient Greek myths. A more recent past is visited on Dog Tags 1942, a song written by Edrington's grandmother about her son going off to war. It's a fine front porch slice of Appalachian music and it's followed by the album closer, No Reason, which meanders through its seven minute duration quite wonderfully as Edrington burrows into his very own happy place while the band expertly nudge him along. Their telepathic playing is a Texas equivalent of the groundbreaking sounds conjured by Fairport Convention when they unleashed A Sailor's Life. It's a perfect way to close a brilliant album.