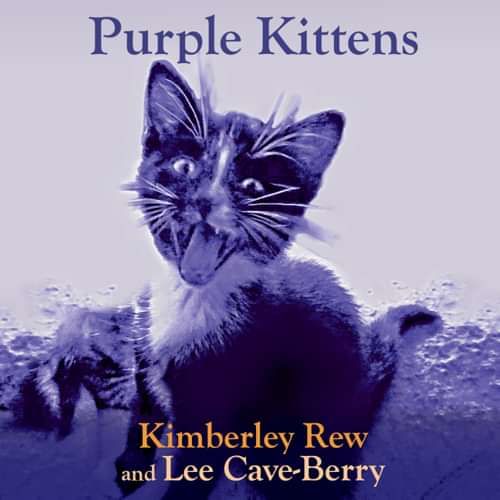 Purple Kittens is the latest album from ex Soft Boys/Katrina & The Waves Kimberley Rew and his partner, Lee Cave Berry and, as expected, it's packed with excellent songs and some really groovy guitar. The latter is apparent from the off as Rew corkscrews some tremendous soloing into the album's opening track, Penny The Ragman. On a song which is as quintessentially English as The Kinks' Village Green Preservation Society, Rew celebrates a relative who was the cornerstone of her village's social life and imbues it with a tremendous sense of mid sixties rock with its freak beat ending.
There's much of the album which recalls earlier days. The flute which warbles amidst the slow-burn groove of Wrong Song recalls Traffic and Raspberry Ripple Ice Cream, with its circular riff and repetitive lyrics, is Rew's attempt to emulate early sixties dance crazes which were often, for some reason, named after food or drink. I'm not too sure if you could actually dance to this as there's a lengthy guitar solo, seemingly beamed in from Mars, midway, but it certainly rips and roars and, who knows, it might be, right now, a dance hit in a Martian night club as they probably have different moves. Lee Cave Berry leans into this retro love as she lays out I Can Be Any Woman which was apparently inspired by her love of early Star Trek and which finds her in a sultry Eastern mood. Fittingly, here the band hit the Orient with Carnatic guitar and modalities, meandering into Donovan territory (without the tweeness) while Cave-Berry comes across as a less menacing Grace Slick. Digging in to his own past, Rew also unleashes a rabid cover of that Soft Boys staple, Kingdom Of Love with his guitar unearthing new sonic possibilities excavated from the original.
Elsewhere, the pair can delve into folk as on Too Much Love or pet loving whimsy on Unsatisfactory Cats while Growing Up Song is an acute and tenderly delivered rumination on the perils of instant digital gratification as "enjoyed" by the kids of today. Speaking of the kids of today, there's a song here which speaks to recent losses due to covid. Black Ribbon is a gnarly rock'n'roll roustabout based on lyrics written by the grand kids of a friend of the duo who had succumbed to Covid. The words describe their grand dad well and Rew and Cave-Berry hopefully do them proud on this rendition. It is a homely element in this swell collection of songs which deserves to be heard far and wide as Rew and Cave-Berry continue to carve their idiosyncratic career.