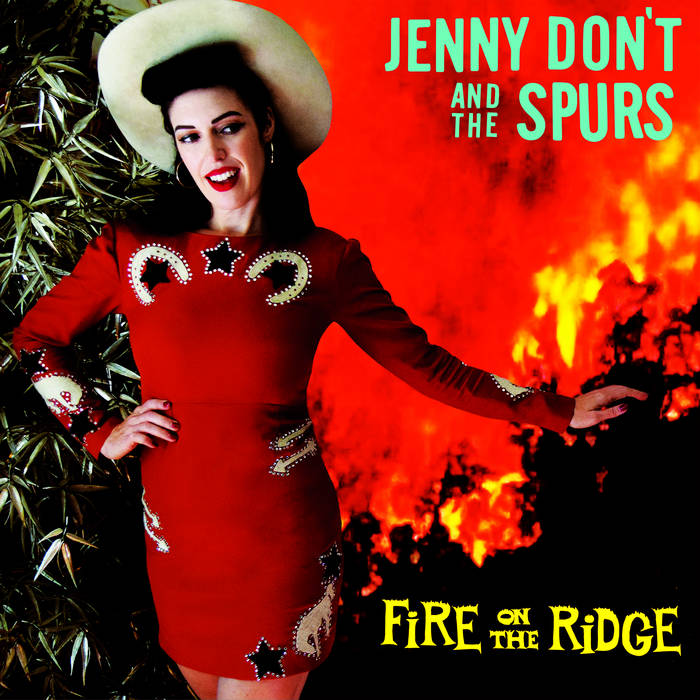 OK, this album has been percolating in the inbox for several weeks having been released back in June, so apologies to the delightfully named Ms. Don't for being somewhat tardy with this review. What to say? It's a belter. Chockfull of twang, country and swing with spoonfuls of rockabilly and spaghetti western sounds to help it go down, Fire On The Ridge is an album which will surely delight any fans of Commander Cody or Asleep At The Wheel. Moreover, at its heart, there's a cowpunk drive to the album which should attract those attuned to the likes of Jason & The Scorchers or The Blasters.
Hailing from Portland, Oregon, The Spurs were founded back in 2012 by Jenny Don't and bassist, Kelly Halliburton with Sam Henry joining in on drums shortly after. Their background was in garage punk and thrash but the addition of guitarist Christopher March in early 2017, added his experience of years playing on the Northwest Country, Rockabilly, and Honky-Tonk circuit. Their chops certainly shine throughout the album with Henry's drums pummelling and driving the band forward while the guitars smoke and burn. Astride this wild ride sits Ms. Don't who sings with a prairie purity, at times coming across like Patsy Cline, sometimes like Neko Case, elsewhere yodelling gleefully.
The album kicks off forcefully with Fire On The Ridge, an almighty racket and rumble of a song which evokes the open vistas of the wild west with tribal drumming and acres of twanged and reverbed guitars amping up the tension. California Cowboy, a sweet country laced lost love song is a brief respite before the turbo charged Blasters' like Be The Only One rushes in. One of the disc's many delights is in the band's ability to rock and then relax somewhat. We get the light footed western swing of Restless Heart and Foolish Lies with the band in a delicate and playful mood, followed by the short rockabilly skiffle of Train Ticket (reminiscent of The Knitters) and then, on the one occasion where they apply the brakes, the swoonful tear stained ballad, Friday Night.
They pull out all the stops towards the end of the album. Johnny Vagabond glistens with mystery and romance as Don't sings of her absent lover and the band beam in as if they were playing in a Martian wild west saloon. There's echoes of John Leyton's Johnny Remember Me and Peggy Lee's Johnny Guitar somewhere in this song's DNA. Queen Of The Desert goes the whole hog western spaghetti route with its clip clop beat and dramatic guitars allowing Ms. Don't to ride victoriously into the sunset. Quite wonderful.