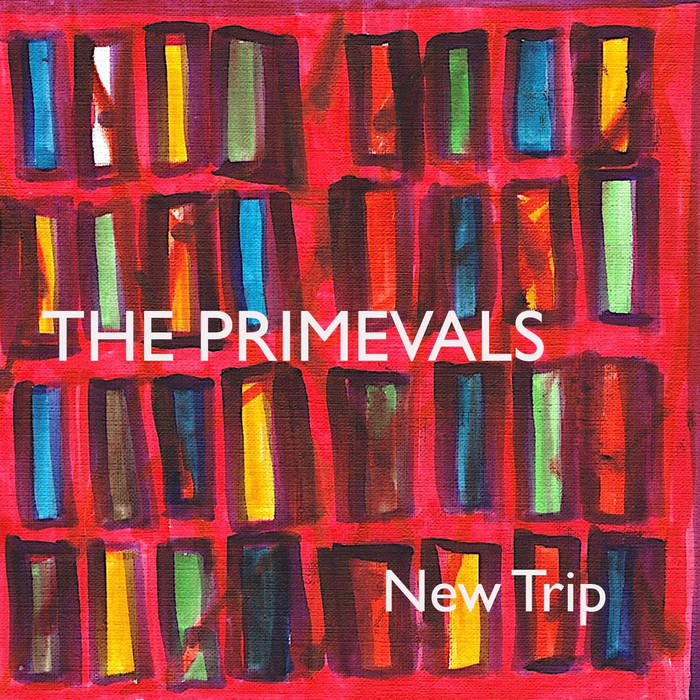 While most folk ate out to help out the spread of the virus late last year, The Primevals decided to get back into the studio to record this swift follow up to Second Nature, the pandemic blues album they released in the summer of 2020. New Trip is simultaneously leaner and more expansive than its predecessor, Second Nature crammed 16 songs into 60 minutes, while here we have nine songs stretched out over 40. Still entrenched in the murkier depths of garage rock and the sonic blizzards of the likes of Sun Ra's Arkestra, The Primevals remain vital and New Trip is both action packed and compulsive listening for anyone needing a shot of hoodoo voodoo grooves.
Hey Love smacks the album open with a crash of guitars and Farfisa organ as the band zoom down a scuzzy highway which knocks the socks off anything that Primal Scream ever laid down. Guitarists' Tom Rafferty and Martyn Rogers have their guitars set to stun and vocalist Michael Rooney rides the sonic wave with an effortless sense of hip. This is amplified on the paranoid rush of Intrusive Thought, which riffs mightily, reminding one of Sky Saxon's more unhinged moments while Searching In The Shadows is also rooted in the more feral garage bands of the 60s who missed out on being included on Nuggets but made up for it by being included on the Pebbles series.
Rooney gets all street political on The Euthanasia Of The Youth, coming across somewhat like a reincarnation of Mick Farren but he's more to the point on the slippery and slide guitar driven The County Line where he captures the excitement and the danger young folk are exposed to these days. That sense of excitement is present in the twists and turns of Gimme Gimme Some Action, a call to arms of sorts which charges along before dissolving into a sixties freakbeat outro and there's more of that in the wailing blues of Only You, which comes across like a turbocharged Yardbirds tussling with an evil synthesiser genius out to control your mind.
The album closes with the superb title song which is a reminder that The Pimevals can stretch out and surprise. A Teutonic propulsive rhythm section drives the song as snatches of Shaft like wah wah guitar briefly appear and a saxophone (played by Kornelijus Pukinskis) balefully moans before Rooney rides in, a modern Kim Fowley to the rescue if you like. The song drives on and the guitars  eventually erupt into Eastern scales entwined within soaring solos while battling with Pukinskis' parping sax as they race to the pulverising end. It's quite exhilarating as one tries to take it all in. We eventually plumped for saying it's like a mash up of The Doors and Can but it is much more than that.