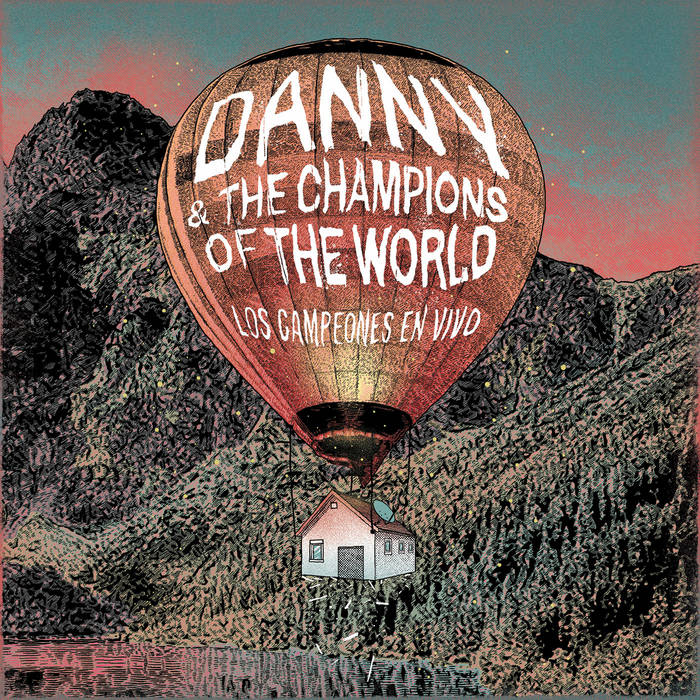 Just as we're on the cusp of getting back to see real live musicians playing real live gigs in real live spaces, along comes an album which packs all the punch of being at a live concert, an immersive and revitalising dive into what was described as a "ragged, sweaty and emotional performance, caught on tape." Recorded in Asturias, Spain in 2018, Los Campeones En Vivo captures Danny Wilson and his band of Champs at the top of their form and shows their progress since their previous live recording which was captured in 2014.
The set list leans heavily on the band's two last studio albums, What Kind Of Love and Brilliant Light, two albums which found them inhabiting more of a country soul world than their previous releases. Memories of seeing them around this time allowed that they were akin to seeing a soul revue and that's confirmed here, especially when they stretch out on a 12-minute rendition of You'll Remember Me with Danny cajoling and seducing the audience wonderfully as the band go all Stax-Volt on us.
From the off, it's clear that the band are champing (sorry) at the bit to be set loose. A tumultuous torrent of guitars and percussion is the curtain opener for Let The Water Wash Over You (Don't You Know) which is turbo charged in relation to its studio version. It's followed by an another tsunami of noise introducing Consider Me, another song which here flexes its muscles, throwing sand in the eyes of the recorded version. By now, one is getting an idea that the band are on fire on this occasion and there are moments which are quite astonishing such as the breath taking close to Coley Point where they come across like a threshing machine driven by thunderous percussion and Paul Lush's wailing guitar.
There is space for some old favourites such as (Never Stop Building) That Old Space Rocket, Every Beat Of My Heart and Restless Feet along with Brothers In The Night – here delivered with a hefty dollop of Sweet Jane stirred in. But overall, the two discs here are a perfect capture of a thoroughly road tested band, proud of their whole catalogue and enjoying showing it off. The sound is excellent while there is some humour to be found in Danny's mixture of Essex and Spanglish in between songs while bassist Chris Clarke is allowed to show off his command of the language (which consists of gracias and cerveza). Best of all is the sense that as the songs progress we are hearing an unedited live set, which captures the excitement of the night. A storming version of Clear Water is followed by a farewell rendition of (Never Stop Building) That Old Space Rocket after which the audience shout for more. What they get is a rollicking Faces' like knees up on Everything We Need with Tom Collison's keyboards rocking the joint before they launch into a sinewy Little Feat like delivery of Long Distance Tears. An anthemic Restless Feet, Danny Champ's paean to restless heroes and, well, rock'n'roll, closes the set with the crowd singing along and Danny urging them to have a few beers with the band once they're off the stage. A brilliant close to one of the best live albums we've heard in a long time.