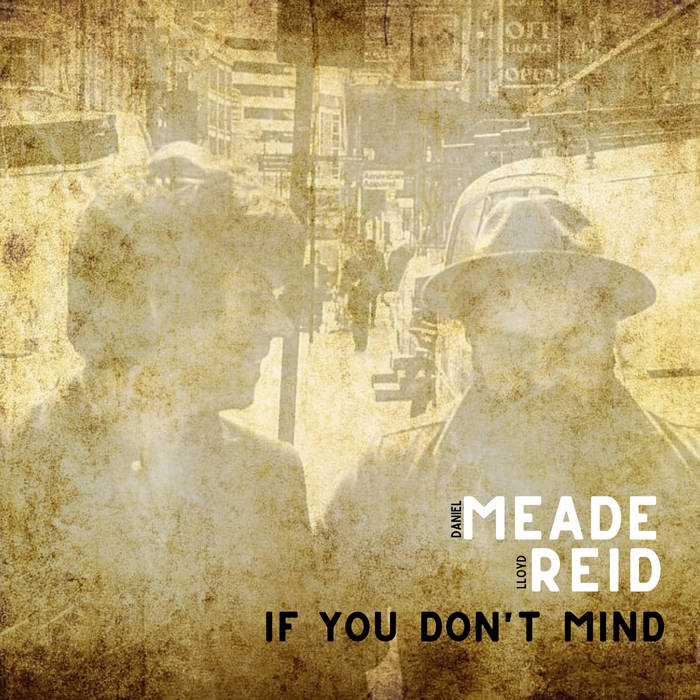 An old buddy of Blabber'n'Smoke, Duke Dali, was released for a while recently and having glommed on this release amidst a pile of albums awaiting review, decided to wax on it.
Glasgow's dynamic duo, Meade and Reid, have been joined together at the musical hip for nigh on 14 years, playing as a duo and in the bands The Flying Mules and The Meatmen, in most of Glasgow's dives and in some of our more salubrious saloons and venues. In addition, they have an international profile having built up an impressive rolodex of influential chums (including Old Crow Medicine Show and Sturgill Simpson) and have graced stages far and wide with their infectious mix of country, rockabilly and good ole' fashioned rock'n'roll. Daniel Meade may be the more familiar name having released a slew of solo albums alongside his band projects but those in the know, know that when Lloyd Reid is in the mix then the pair really work their magic.
If You Don't Mind is the first release (bar an earlier single) to have both their monikers on the sleeve and it's the culmination of a germ on an idea hatched on a tour bus some years back but only realised in lockdown isolation. Reid's guitar has been a vital part of Meade's sound over the years but he has been expanding his vistas adding steel guitar to his well regarded fluid Hofner guitar licks and here he provides an incredibly impressive array of sounds to Meade's well honed songs. The closing song here, Why You Been Gone So Long, features his trademark runs which owe as much to jazz guitarists as it does to country slickers as he lifts an already excellent song into the ether (not to mention Meade's fantastic piano solo which is just sublime).
Why You Been Gone So Long is a fine example of Meade's ability to produce an immediate classic, sounding as it does as if Woody Guthrie could have penned it and throughout the album he hits the mark time and time again. The anguished If You Don't Mind kicks off proceedings as the pair sound like The Rolling Stones playing in a puddle of beer amidst broken glasses in an old time saloon. Hard To Be A Man These Days belies the remote recording involved in lockdown as the pair sound as if they were hunkered down in Sun studios in Memphis. Meanwhile, the very brief Give This World A Shake could have easily been inserted into a 1960's soul revue.
Over the course of the album, Meade digs into hard luck and hardscrabble times. Choking On The Ashes has Reid adding weeping pedal steel and Mexicana guitar to Meade's mournful words while Good Heart Gone Astray is a good old god dam country weep with honky tonk piano and keening pedal steel. Sleeping On The Streets Of Nashville is a grand tale of crashed dreams as a would be country superstar hits the skids but Meade and Reid do hit the highlights on the superbly performed Old Rope And Razor. Here, Meade writes a song which bears comparison with sixties luminaries such as Fred Neil or Tim Buckley while Reid's guitar lights up the song like a Greenwich Village cafe neon sign. It's perhaps the best number Meade has offered us over the years and with Reid's nimble playing it's quite sublime.