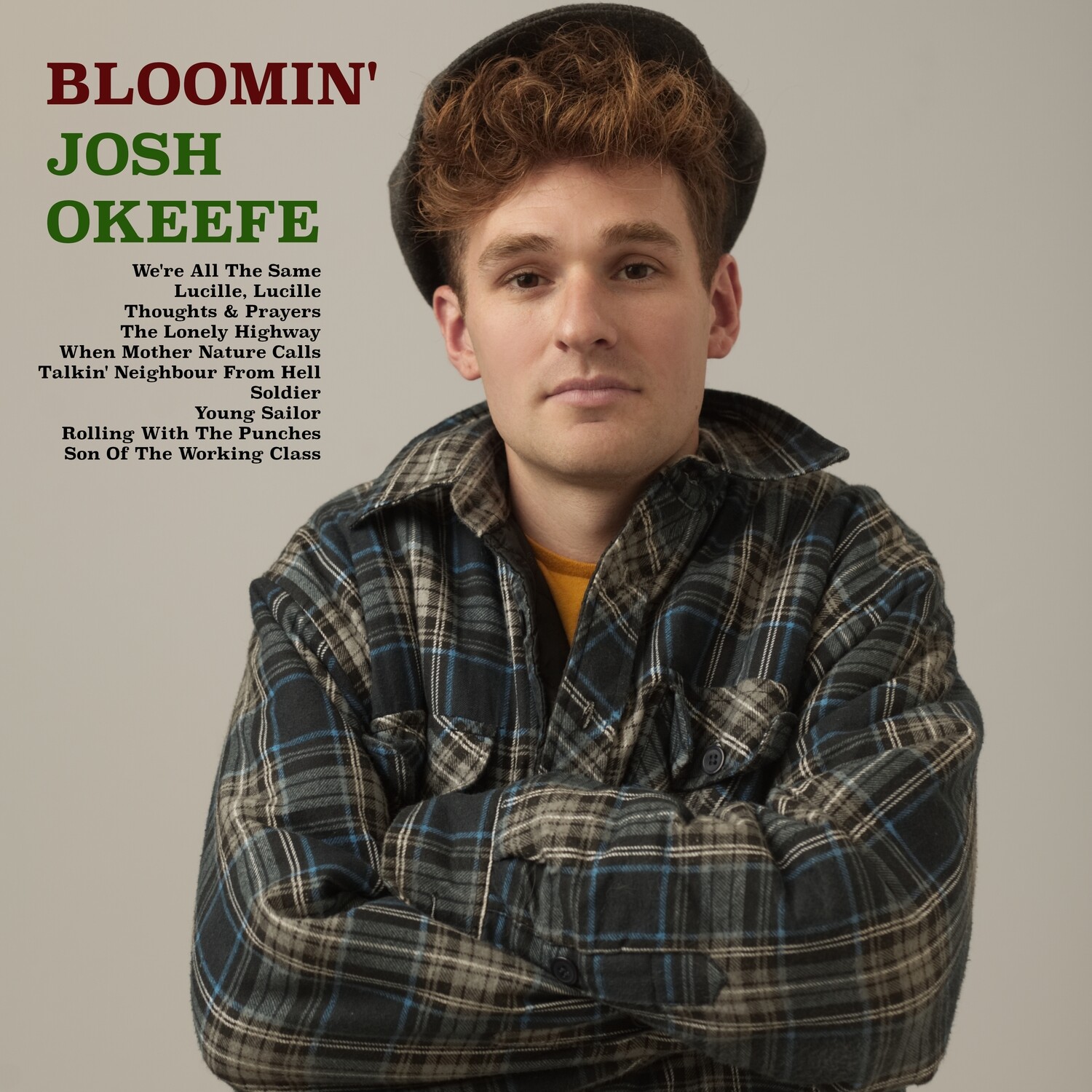 It's best just to come out with it and say that Josh Okeefe is firmly on the side of those who collect Dylan bootlegs from 1961 to 63. Before Dylan got all weird and well before he got all surreal and plugged in. The raw young Dylan, along with his forebears, Woody Guthrie and Rambling Jack Elliot, loom large on Okeefe's debut album from the album art to the song writing and delivery but, and maybe it's something in the air these days, O'Keefe has hit a nerve somewhere. He certainly delighted audiences on his appearances here in the UK with many folk still talking about two support slots he played within a few days in Glasgow last year.
Like Dylan, Okeefe can be political, romantic, humorous, and sardonic and again, like Dylan, he has a grasp on traditional songs and is able to cast them anew. In fact he's terribly good at what he does and it's quite astonishing to learn that he's a lad from Derby who decided to decamp to Nashville after scuffling around his hometown, London and Brighton. His roots do show via his voice which at times reminds one of Billy Bragg and on occasion, Lonnie Donegan.
The album takes its time in gathering steam. The opening cut, We're All The Same, a timely call for unity, lacks punch while the following Lucille, Lucille is somewhat tentative although the harmonica playing here is classic early Dylan. Suitably warmed up however, Okeefe goes for the jugular on Thoughts And Prayers, a powerful and angry song about school shootings with his bile directed towards the politicians who express their sorrow and "thoughts and prayers" for the victims while doing nothing to change the situation. Harrowing situations bring out the best in Okeefe with Soldier approximating another Greenwich Village troubadour, in this case Phil Ochs, as the song dissembles the hopes and dreams of those sent to war. Son Of The Working Class, (with Okeefe playing banjo) is as gritty a folk ballad as anything written by Ewan McColl and it's etched here as if in slate.
Dylan of course had what some folk described as a Chaplin like persona back in the days and Okeefe manages to capture this on several of the songs here with the talking blues the perfect vehicle. Talkin' Neighbour From Hell is a close cousin to Motor Psycho Nitemare and Okeefe has great fun with it, reverting to his native voice and quoting from This Land Is My Land. Rolling With The Punches meanwhile is freewheeling indeed and Okeefe waxes somewhat poetic on the moving environmental call to arms, When Mother Nature Calls, where he condenses a Dylan like anthem and Clancy Brothers' like earnestness into one.
Bloomin' Josh OKeefe is unashamedly indebted to the past but it speaks to the present and with its unadorned simplicity it's like a breath of fresh air. Had we be living in normal times, Mr. Okeefe would have been singing these songs in Glasgow's Glad Cafe next week. Here's hoping that's just been postponed.
Josh Okeefe · Thoughts & Prayers