Celtic Connections is a beacon of light in the dark days of January in what is generally a cold and damp Glasgow. The festival started in 1994 in an attempt to fill scheduling gaps in the city's Royal Concert Hall. Since then it has grown to the point that this year there will be 2,100 artists (at 300 events in 20 venues) with major artists from Folk and World music appearing. There's always been a strong Americana presence at Celtic Connections over the years and this year is no exception with Jeff Tweedy, Calexico and Lambchop appearing along with a host of others. One of the delights of Celtic Connections is the connection element as it draws together numerous roots traditions and styles, matching and pairing unlikely combinations for some astonishing "mash ups" while musicians will tell you that the late night Festival Club and the local hotels are fertile breeding grounds for jams that can see Scots' fiddlers and African tin whistlers cosying up to Zydeco musicians or Appalachian foot stompers.
Roaming Roots is a relatively new addition to the Festival growing out of a 70th birthday tribute to Bob Dylan four years ago. Now firmly established as a highlight it's a musical revue hosted by Scots musician Roddy Hart and his band The Lonesome Fire as a variety of guests join them in a celebration of music with each year having a different theme. Last year's tribute to the music of Laurel Canyon was a blast and with that in mind Blabber'n'Smoke contacted Roddy and asked him about the concept and what to expect this year.
As far as I can see, the prototype for The Roaming Roots Revue was the 2011 70th birthday celebration for Bob Dylan while 2012 saw a tribute to the late Gerry Rafferty. The format has been yourself and The Lonesome Fire acting as the house band for various artists to interpret the songs. Roaming Roots itself came about in 2012 with a concert in memory of Levon Helm. How did the Dylan venture come about in the first place and whose idea was it to continue with the format?
Musically, I was at a real crossroads back in 2010. I had released three solo records in almost as many years, but I was finding it hard to get noticed as an independent artist and was becoming a little despondent. The band as it is now (The Lonesome Fire) was in its early stages of forming, and one thing I had absolute confidence in was just how musically talented these players were. In a way, I wanted to show them off! I'm a lifelong Dylan fan, and had noticed that he was approaching his 70th Birthday in 2011, but that no one was mooting any sort of celebration for it. That felt wrong to me. A few years earlier I had been involved in a Leonard Cohen tribute in Canada, which used a house band to anchor the show and back the diverse array of artists taking part. That format struck me as perfect because logistically these shows can be a nightmare – the artists are almost certain to be arriving only a day or two before the show and so rehearsal time is limited. It's also really expensive to fly a whole band in. So it struck me as a good thing to do for the band: we could invite artists over as a solo act or a duo and – with proper organisation and rehearsal – learn up the Dylan songs they felt like tackling. I pitched that show to Donald Shaw at Celtic Connections and he told me that if I could get some artists interested in doing it then we had a show. I got lucky straight away: I had opened for Rosanne Cash the previous year and so chanced my arm by sending her an email to ask if she was interested. She said yes immediately and the whole thing just took off. Other artists came on board, and the event sold out really quickly: we were really fortunate that people just connected with the idea straight away.
The Rafferty night in 2012 was different in that it was organised by Gerry's friend Rab Noakes – who had been a guest, and one of the highlights, at our Dylan show – and he kindly asked us back as house band. That proved a really useful show in the end, because other musicians were added to the mix and it was a really complicated set to navigate both musically and logistically. I learned a lot from both of those shows.
As a result, I talked with the band and we decided that we wanted to create a new show that would be about more than just paying tribute to music of the past. Part of the show would still have artists covering songs that you might not get to see or hear elsewhere, but we felt particularly strongly that their own songs should be in there too – it felt a bit of a shame not to celebrate the incredible music that so many of them make. We also thought there should be an emphasis on making the show about lesser known younger emerging artists who might not get the opportunity to play these kind of concerts every day.
Last year was a celebration of the spirit of Laurel Canyon. Was this an attempt to widen the net somewhat as opposed to focussing on one artist and why was Laurel Canyon chosen?
Definitely. We adored doing the Dylan concert and, as a fan, I loved pulling it all together and coming up with a set list. But there are certain limitations to using the songs of only one artist for a whole show: there's only one Bob Dylan, and only a handful of artists who can match that songbook. Our first Roaming Roots was the exception because Levon Helm had recently passed away, and that felt like such an important thing to pay tribute to. His daughter Amy wanted to be there for it, and so that pretty much set the tone for our inaugural show. Because it was a new type of gig no one really knew it was going on – we didn't even sell out the downstairs part of the Concert Hall – but it was one of the most special shows we've ever played as band. Beth Orton, Low Anthem, LAU and many others playing and singing their own music and doffing their cap to Levon's music with The Band really provided the blueprint for the event and proved to me that the odd combination of original music and something from a themed songbook could work together. That was something I worried wouldn't compute with audiences, but the opposite was true: they completely got the link between the music of the past and the music of the future, and just how important it is to celebrate both.
We chose Laurel Canyon to try and widen the net, and because we were conscious that we'd played two tribute shows in two years that had marked the death of a musician. That can be a difficult and emotionally charged thing to be a part of, and so it felt right to settle on a songbook that wasn't about one artist. Laurel Canyon was so emblematic of that feeling of unique collaboration and togetherness that Roaming Roots is trying to create that it seemed perfect and we all had our own favourite artists from that era so I knew we wouldn't struggle for songs. Happily, the show connected with the audience too.
Presumably, the preparation for the shows is complicated with upwards of a dozen other acts involved. Who's involved in the planning and do you wait to see who's playing the festival and then start to plan or do you have a wish list of folk you want to invite? I know that Dawes came over specifically for four songs at last year's show.

It's very complicated! Essentially, I "curate" the show. So, I'll do the initial ground work: deciding on artists who I think might work for the concert, enquiring about their availability, talking with the confirmed acts about song choices, pulling together a set list that I think has a good dynamic and would work on the night. There's always a wish list of artists – ranging from the sublime to the ridiculous – and Donald Shaw and the Celtic Connections team are always totally brilliant at trying to make that list happen (within reason). Even if the artists are interested in the theme, there can be a million reasons actually confirming them might be complicated – scheduling, money, or management/agent difficulties understanding what the format of the show actually is, for example – but quite often it's solved by simply speaking to them directly. Once we have our artists confirmed it then moves to the band rehearsal stage. Although I'm involved in the hosting and all the admin for the event, it's no understatement to say that when it comes down to it it's all about the boys in the band: I couldn't do it without their innate skill and ability to tackle such a diverse and constantly changing set of songs.
How much opportunity do you have to rehearse the show? I guess some folk are just off the 'plane or have their own gig to worry about.
We score up music charts together as a band and after I get word from the artists as to the songs they're happy to perform and the keys they'll be singing them in, then we have a few tentative rehearsals in December before work begins in earnest in January. Christmas is always a difficult time to get people together, so it's pretty much a write-off. I try to get the Scottish artists on the bill in for rehearsals in good time in January, because it's always completely mental when the overseas artists arrive. If we're lucky we get them all for an hour the day before the show, and then for a brief sound check on the day (maybe 20 minutes) and then it'sshowtime! It's stressful and tiring, but completely worth it in the end.
Any particularly scary moments when it looked as something might not happen as planned?
We've had plenty of near-misses with artists we really wanted to take part but couldn't quite confirm in the end for whatever reason. That's always frustrating, because you can spend a lot of time chasing ghosts, but you can't get too hung up on it. We'll get them for a show in the end I hope! Ben Knox Miller from the Low Anthem was one of the highlights of our first Roaming Roots, but he almost didn't make it due to a mix up with the offer. Beth Orton told us the wrong key for a couple of songs she was due to perform and we only had an hour to relearn them in the new key (which has happened quite a few times!). But for all the stress and worry, it always seems to come together on the night, and it adds a certain excitement to the whole thing. Last year was a voyage into the unknown with Dawes simply because we've never had another full band on the show – logistically it's pretty difficult. But I really wanted them there to represent what's happening in Laurel Canyon in a modern context, and so we went for it with a two-band set up on stage: turning round to see two drummers (Dawes' Griffin and The Lonesome Fire's Scott) playing on the finale alongside nearly 30 other musicians was pretty special made up for the pre-show headache.
Celtic Connections has always been a very broad church and from the start has embraced artists from all over the world. The Revue has featured local artists such as Edi Reader, Rab Noakes, James Grant, Trash Can Sinatras, Siobhan Wilson, Kris Drever and Lau along with US acts including Roseanne Cash, Jerry Douglas, Thea Gilmore, Cory Chisel and Dawes. As curator do you have in mind a particular balance, thoughts of interesting pairings? What input do the artists have in the song selection and who they will be playing with?
The bottom line is I don't want the artists to have to sing anything they're not comfortable with, so there is always an open dialogue with them right from the start. But I also have to think about the dynamic of the night and have a responsibility to the audience to create a show that has moments of both discovery and familiarity. They need to be able to respond to the show as a whole. When we decided on Laurel Canyon as a theme in 2014 that meant we could go for the obscure stuff like Judee Sill, but I also knew that we had to tackle some of the big songs like the Eagles' Hotel California. I had to convince Cory Chisel that it was a good idea, because he was the only one with the range to sing it, and I'm glad he agreed –ubiquitous as that song may be, he nailed it and it was a complete thrill to play on the night. We all had huge grins on our faces for that one. This year we have a couple of collaborations taking place, but because of the theme most of the artists are already established acts
This year's theme is harmony, as in singing and we're promised selections from the Everlys, Simon & Garfunkel, The Beach Boys, The Beatles, Big Star and Teenage Fanclub. Is there any particular reason this theme was chosen, does it guide you to ask certain acts such as The Lost Brothers to participate?
There were a few ideas in the pot (some that we may return to in future if we do it again!), but after the death of Phil Everly this year we talked a lot about the magic of close harmony singing and just how special it can be. It's a dark art. I thought it would be interesting to investigate the idea of a kind of history of close harmony. So, instead of being about a specific time and place, this would be more about a style of music. It excites me that as well as hearing some of the artists sing classic songs from Simon and Garfunkel or The Beatles, you may also get to hear them taking on something more recent like Teenage Fanclub. I think it's an interesting road to go down, but we're also well aware that it's a challenge and so it definitely dictated the type of artist we approached to be involved. I was mindful of making sure we booked artists already well versed in the art of singing harmony together, because things can go spectacularly wrong if you team up artists that look good on paper but don't work so well when they finally meet to rehearse the day before the show.
So far the line up includes Grant-Lee Phillips, Howe Gelb, Rachel Sermanni, Colin MacLeod, The Pierces, The Lost Brothers, Ruth Moody. Dawn Landes and Tiny Ruins. It's a tantalising prospect. Will there be more names to come and, without spoiling any surprises for those attending, is there anything in particular that you are looking forward to on the night?
I'm really pleased with the line-up so far, and we've just confirmed The Rails who are a great male/female harmony group from England fresh from being named as MOJO's folk album of the year. There may be a few more names to come, but it's still a little uncertain and dependent on a few different factors. We certainly have some of my favourite artists of recent years with us, so it's shaping up to be an exciting show. I'm currently working my way through the set list to make sure the balance is right – although it's always liable to change right up until the day of the show – but as with any Roaming Roots Revue anything can happen and I'm just looking forward to that post-show beer!

Roaming Roots Revue is at The Glasgow Royal Concert Hall on Sunday 18th January.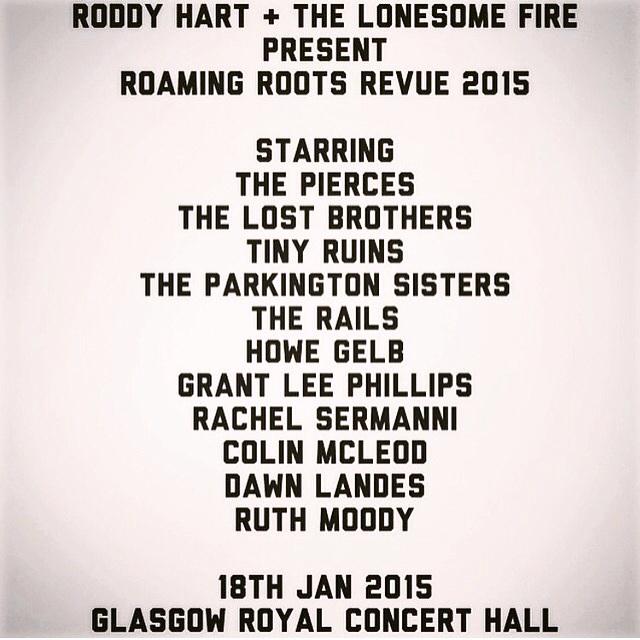 Here's a snapshot of last year's Roaming Roots Revue