It's that time of year again when we shake off the post festive blues with some energetic gig going. Blabber'n'Smoke will be attending several shows for a feature on americanaUK, if you're interested you can read last year's write ups here and here.
Celtic Connections has a habit of imprinting some artists onto the public's collective consciousness especially if they get the chance to appear on the extensive television and press coverage that accompanies the festival offering these choice acts a fine opportunity to build their audiences up when they return under their own steam. So over the next few days we'll look at a few bands and acts and here's hoping that some of that Celtic Connection luck rubs off on them.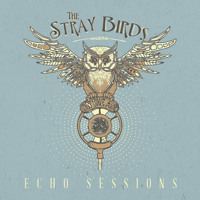 First up are the very fine Pennsylvania based The Stray Birds, a trio whose debut album has been gathering praise since its release at the tail end of 2012. An acoustic trio featuring primarily banjo, guitar, fiddle and double bass they convey a relaxed sound that harks back to traditional country and folk although on the album they wrote all of the songs. All three sing and harmonise excellently with the song Wildflower Honey (which does feature some stinging telecaster work) being the highlight of the album. It's a song that stands up well against the likes of Sandy Denny and the Fairports. My Brother's Hill meanwhile features their harmony singing and listening to it you could be mistaken for thinking that the Eagles had got their Mojo back and delivered on the promise of their first two albums. All well polished and good but the band conjure up older and darker spirits with the instrumental Give that Wildman A Knife/Bellows Falls where the twin fiddles of Maya de Vitry and Oliver Craven are chilling and sinister. Capping it all is de Vitry's song Wind & Rain which ventures into Gillian Welch territory and comes out a winner. If these are any indication of their live show then we're in for a treat. With a new covers E.P just out (featuring songs by Townes van Zandt, Susanna Clark, Ira and Charlie Louvin, Jimmie Rodgers and Nanci Griffith) they are appearing at St. Andrews In The Square on 25th January.